ClassiPress Child Themes is what you need to look for, when you want to make over your Classified ads website based on the ClassiPress WordPress themes.
The end year is coming, change your website into a new looks is something cool.  There are totally 18 child themes on AppThemes marketplace, but over here I will only include 10 most rated themes only.
The Best 10 ClassiPress Child Themes from AppThemes Marketplace
Before reading this post and pick one best ClassiPress child theme, I assume that you already know about ClassiPress theme, but if you don't, buy it here or get the information here.
1. Grid ClassiPress Child Themes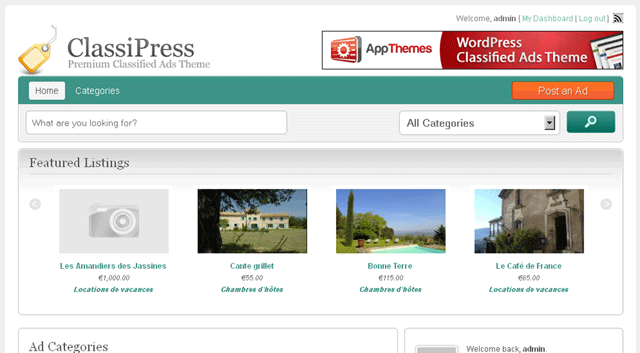 Bring the possibility for user to change their view from a grid based into list view, in a beautiful and responsive design. It also powered by ClassiPress color chooser, change the color into your brand identity is easier. In addition, there isi also Featured Slider Pictures. Average: 5 – 11 votes
2. Jibo ClassiPress child theme

Jibo is a ClassiPress 3.3 child theme having features that extend the capabilities of the theme. The color combination of blue and Yellow are very strong and compelling to anyone browse the products on your site.
Jibo is a responsive theme with grid lay out to achieve the design, it will enable you to display AdSense bot for desktop and mobile website. There is featured and related ads feature too, to make your visitor stay longer.
Average: 5 – 14 votes
3. Skye ClassiPress Child Themes

The next is Skye, a cleanly designed responsive child theme for ClassiPress 3.3 with almost-flat design pattern. Skye is compatible with WooCommerce and has "Featured" and "SOLD" label on the listing. It has 14 color schemes to choose from inside the theme option.
Average: 4.9 – 9 votes
4. Mydentity ClassiPress Child Themes

A bold theme, fully flat, and have the same color accent as Facebook. This cool warm responsive theme bring a complete features like;
Enlarged featured product slider with bigger images
A grid/list toggle for the ads on the home page

WooCommerce integration to sell products directly

Great use of CSS3 animation properties
Large product images on single listing views
An options panel which allows you to choose your theme colours
5. Simply Responsive (CP) ClassiPress Child Themes
A totally simple responsive child theme designed for ClassiPress 3.3, with such bloats of animation and slider effect. This "to the point" theme will bring all the info about your product listing quickly wit no more time to wait for your visitor. There are 6 predefined color schemes to choose from.
Average: 5 – 13 votes
6. eClassify ClassiPress Child Themes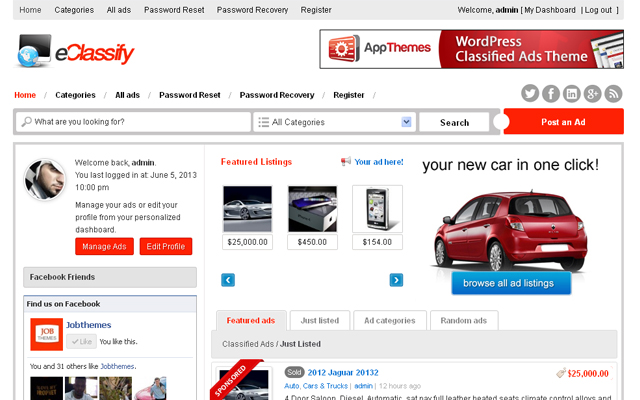 eClassify is a premium ClassiPress child theme promising you have full control so that you can change your design in just a few clicks away. 8 Color schemes and more (unlimited eventually) if you want to define more color variation. You will also have 7 special ads spots, 42 custom background pattern and a well designed theme option.
Average: 4.8 – 14 votes
7. Ultra Classifieds ClassiPress Child themes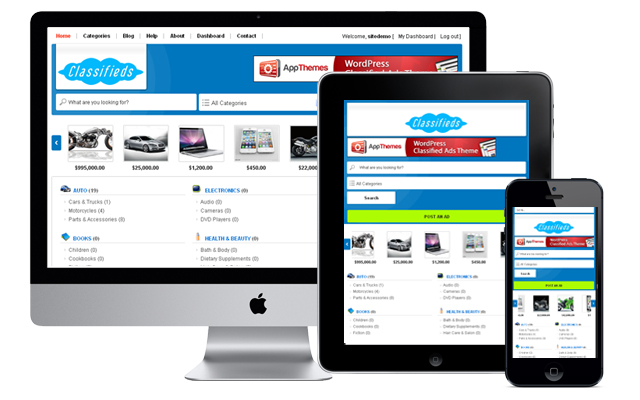 Flexibility, it is what this clean & crisp theme trying to offer to you. Ultra Classifieds provides you with every module you might need to have on a professional classified web site. Each module comes bundled with its own options and features. There is also fast support team ready for you 24 hours if you want any helps.
Average: 5 – 4 votes
8. Commerce & Classifieds  ClassiPress Child themes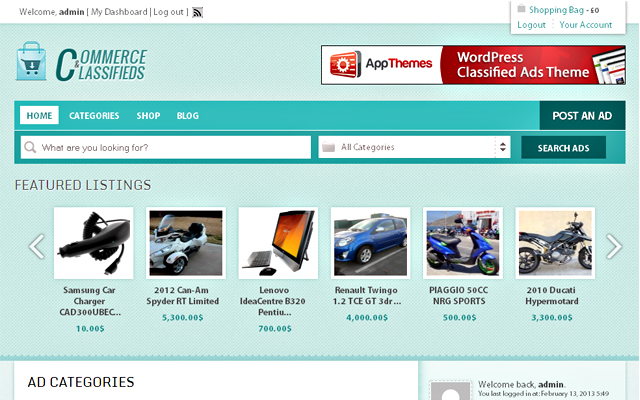 A bold Tidy & sparkling theme, designed with good detail that best suit for chicks, if most of your reader are women, they will love this theme design. Especially the smooth pattern that resulting in a warm atmosphere to your website.
Some more feature reagarding to compatibility brought to you by Commerce & Classifieds  ClassiPress Child themes are;
WordPress Multisite compatible
Compatible with ClassiPress 3.3+
Compatible with WooCommerce Plugin
Average: 5 – 2 votes
9. Headline ClassiPress Child themes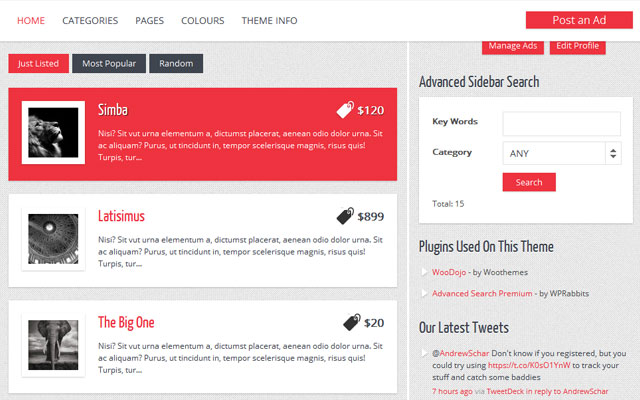 Headline is a simple and bright ClassiPress child theme with a Metro alike design philosophy, this theme gives you more pleasure for having it compatible by the most used plugins needed to run a classified websites like "Extreme Carousel"  and  "Advanced Search Premium".
Average: 4.3 – 8 votes
10. ClassiClean ClassiPress Child themes
Clean, minimalist, back and white with beautiful typography, here it is the best theme for you Simplistics, I know you are there 🙂 Complete ClassiClean features including;
Fully responsive theme
Clean, black and white layout
Compatible with most of the plugins available for ClassiPress
Compatible with ClassiPress 3.2+
WordPress Multisite compatible
Average: 5 – 7 votes
Best and Compete Choice ClassiPress Child Themes
Any kind of audience could use these theme, pick one that is the best for them so they will stay at your website longer. Even if you like a simple design there is also the right theme for it.
Go grab one, and thank me later 🙂